Part 3
Create a new layer on top of all the others . Go to Image - Apply Image.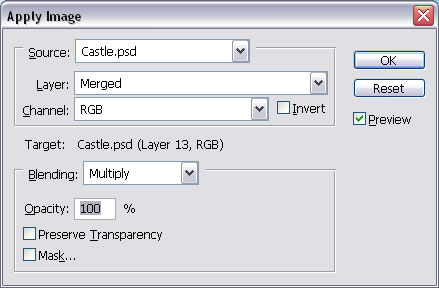 This step is optional. I like to play with shadow and light with Burn and Dodge Tools. In the image below you have some of the areas that need this treatment.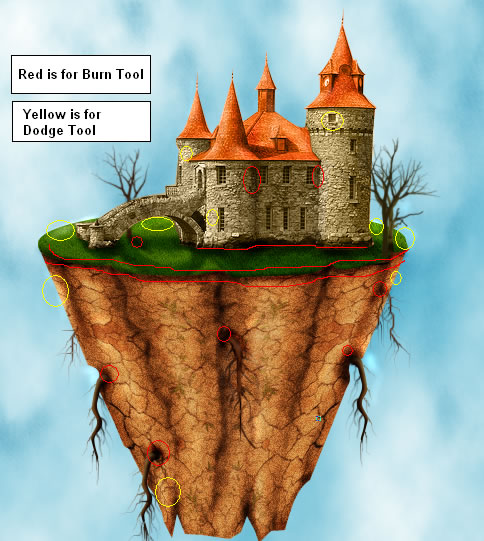 Step 10 - Add the Sky and the Clouds
The sky is to flat, the image needs some clouds. I have used this beautiful sky photo from Flickr. Copy this photo and erase the buildings area, keep only the sky. Use Rectangular Marquee Tool to select the city and delete. To blend the bottom sky area with our sky you only have to use Smudge Tool and than Blur Tool.
Call this layer Clouds Layer. Duplicate this layer and call it Bottom Clouds Layer.
You can see that the layer covers the castle and the trees; not a good thing. Return to Castle Shape Layer press CTRL and click the layer Thumbnail and return to Clouds Layer and simply press delete. Do the same for the trees.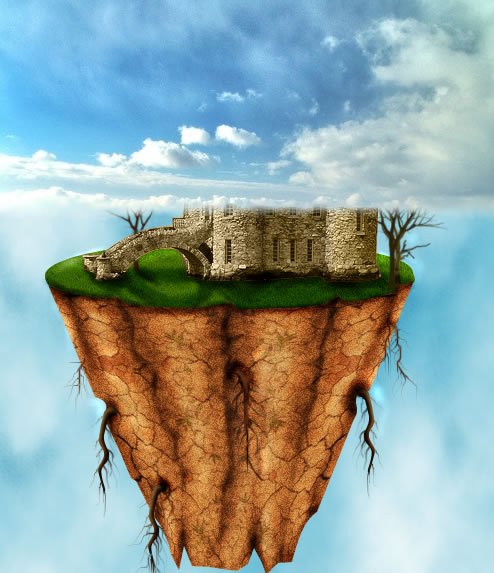 Draw a rectangle on the bottom of the image, color #88c6d9. Go to Filter - Blur - Gaussian Blur . Change the opacity of this layer to 70 %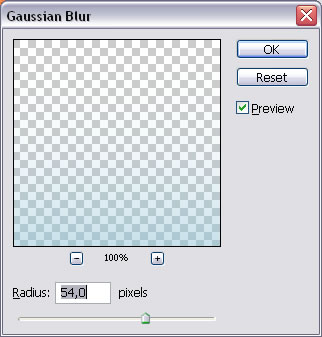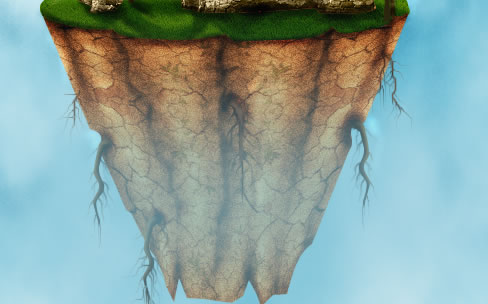 Place Bottom Clouds Layer on the bottom of the image. I will now use Smudge Tool to make the top edge of this layer, blend with the rest of the sky. Use the Tool up and down, right and left with circular moves to make the result image look realistic.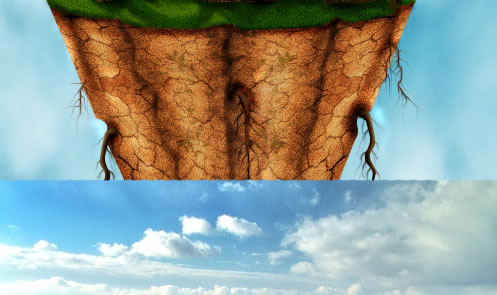 Change the opacity of this layer to 70 %.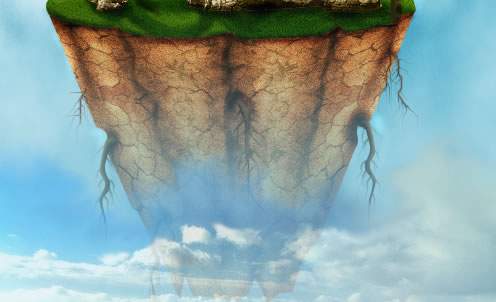 Step 11 - Add Final Touch
No image manipulation without birds! I have found a nice Free Birds Set . Place birds with color #52696d on the sky as you like.
The nest step is to draw a rectangle, color #b1aa9e on top of all the layers. The rectangle must cover the entire image. Change the Blending Mode of this layer to Hue and the opacity to 40 %.
This is my final image! Hope you like it!