I know that there are several Photoshop tutorials on the internet about creating chalk effect. But nevertheless I want to create my own chalkboard with chalk text effect.
All the elements are made entirely from scratch, using vectors, layer mask and textures. I will not use one of the many chalk font sets available for free on the internet, I will try to create my own font instead. Nothing too complicated, so let's start!
Black Chalkboard
There are different types of chalkboard, the most common are black or green chalkboard. I choose black color. To start open a new PSD file, 600x600 px. Create a layer called Chalkboard. Fill it with color #1d1d1d. Duplicate this layer and call it Chalk Effect. You all know that no matter how much we try to clean the chalkboard, there are various chalk trails that still remain. I will try to recreate this effect.
Make sure that the Foreground Color is #1d1d1d and the Background Color is white. Go to Filter, Render Menu and pick Clouds.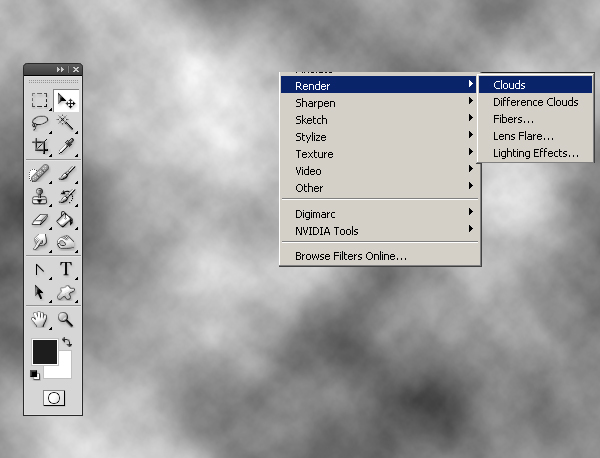 Apply another filter to this layer, this time go to Blur, Motion Blur and make the following settings: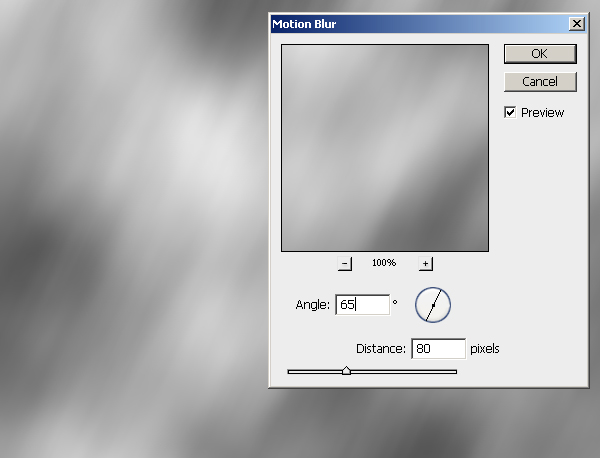 Sharpen, Smart Sharpen is the last filter applied to this layer. You can see the settings below. Remember that you can play with pther filters and effects to obtain the washed chalk effect. Simply reduce the opacity of Chalk Effect layer to 20%.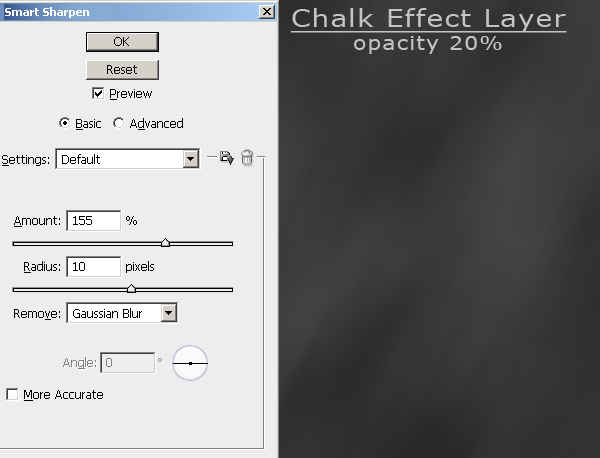 Chalkboard Frame
Draw a new shape with the Rectangle Tool, color #53390c. Call it Frame Layer. Make sure that the Vector Mask Thumbnail of the Frame Layer is selected. Choose again the Rectangle Tool and press Substract from Shape Area from the toolbar as shown in the image. Simply substract a rectangle inside the previous shape to create a frame. Do again with the Line Tool, 1 px size and substract also from the initial shape.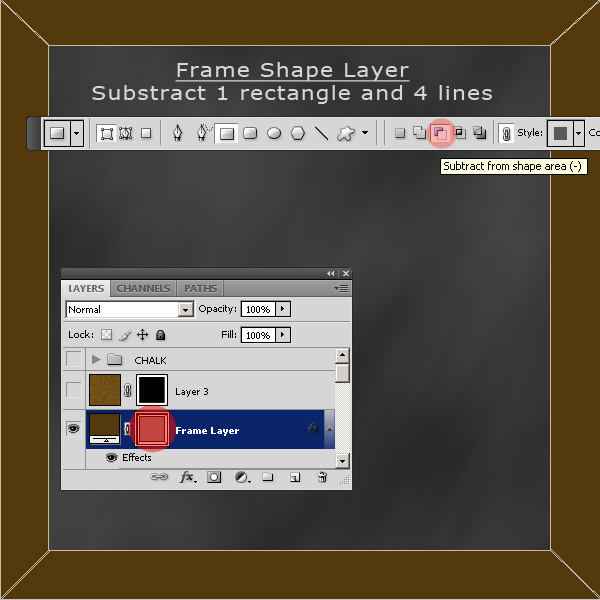 Open the Layer Style Window of this layer and add Outer Glow and Inner Glow with these settings.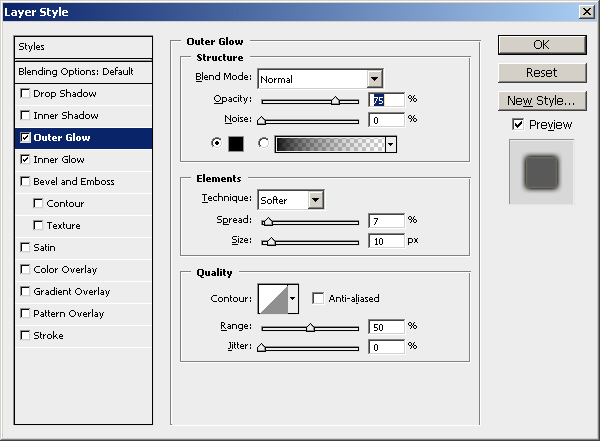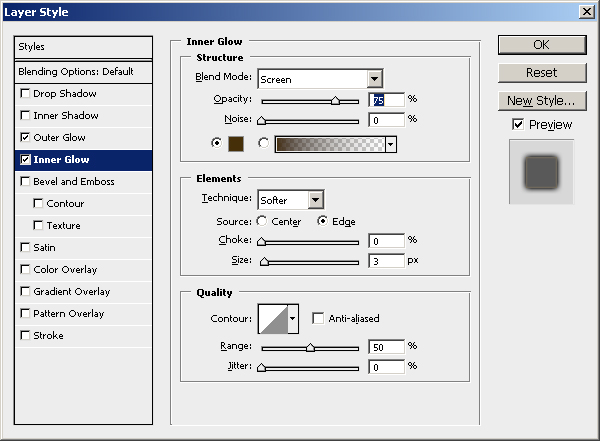 This is how our chalkboard looks like so far.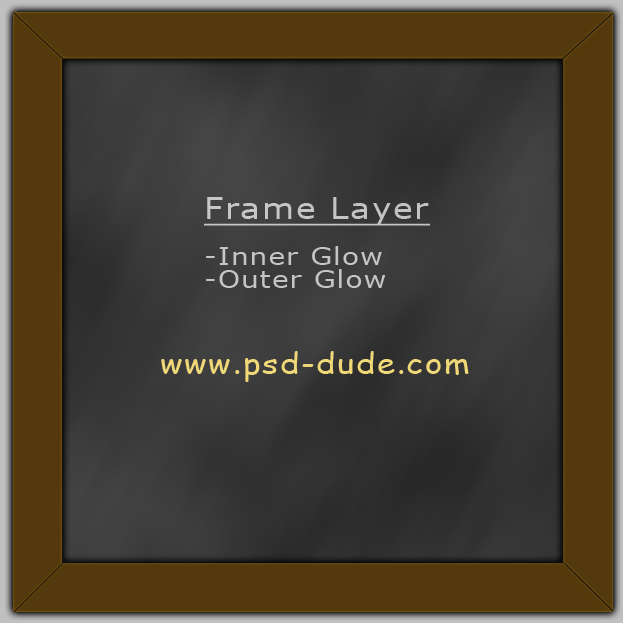 Wood Texture
Create a new layer called Wood Texture and fill it with #8e651f. Make sure that the Foreground Color is #8e651f and the Background Color is #4c340a. As you probably know, some Photoshop filters like Fibers and Clouds work with the background/foreground colors so it is important that you don't forget to set them. There are other filters that work with shapes like Distort Filter(s) with Contrast like Sharpen Filter(s). So go to Render, Fibers Filter and set the variance and strenght.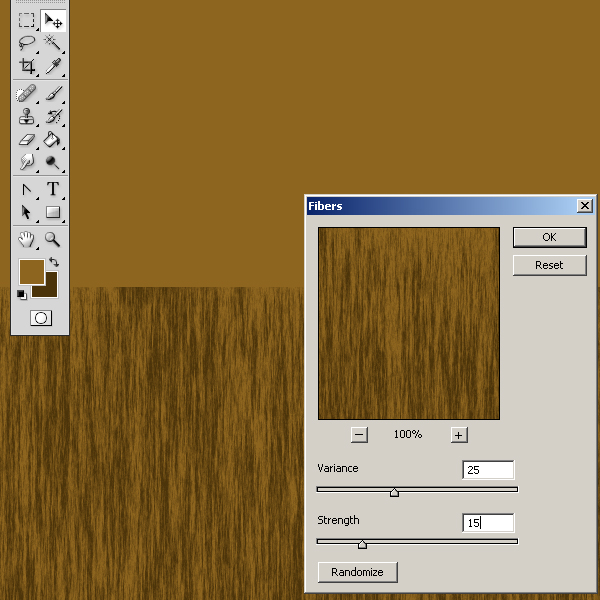 Return to Frame Layer and press CTRL and click the Vector Mask Thumbnail. You will see that a selection was made. Return to Wood Texture Layer and press Add Layer Mask. We obtain the frame layer shape with wood texture.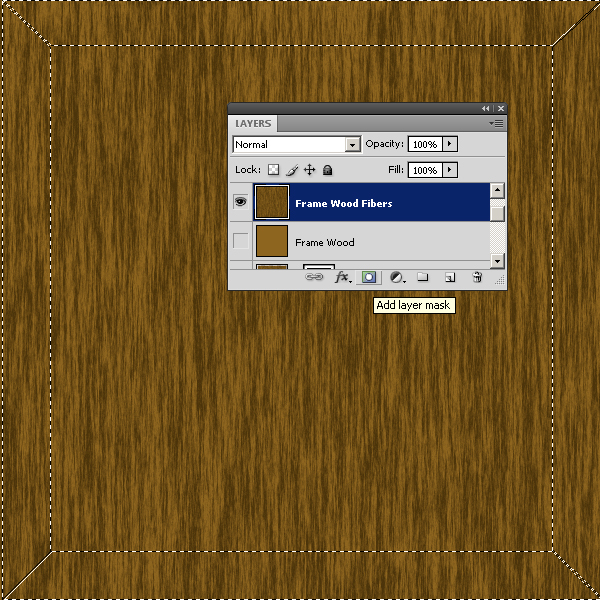 Change the Blending Mode of Wood Texture Layer to Overlay, opacity 70%. Add Inner Glow to the Chalkboard Layer, blend mode normal, color black, choke 50% and size 100 px. This is the final result of the chalkboard with wooden frame.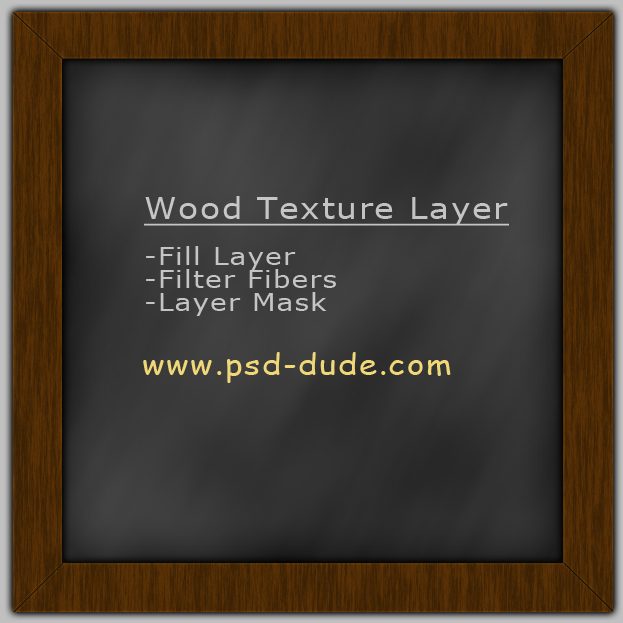 Chalk Text Effect
There are lots of chalk font sets on the internet but I want to try to create my own chalk effect. For that I will use Carbon Block Font, size 180 pt. You can see all the settings in the image below. Call this layer Chalk Text 1.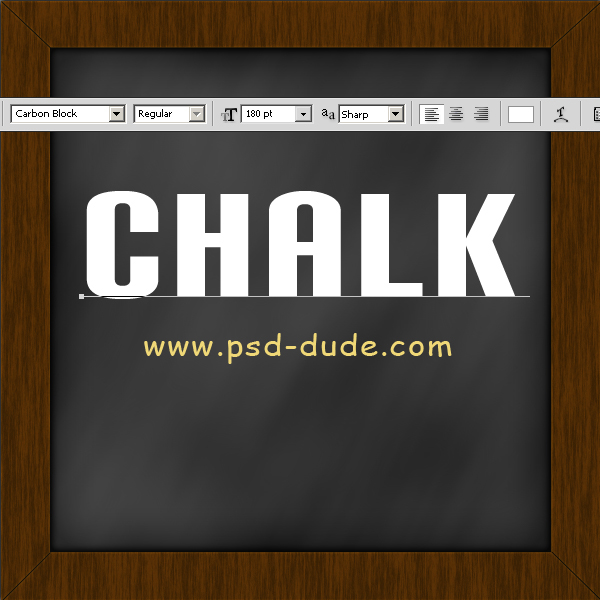 Duplicate the Chalk Text 1 and call it Chalk Text 2. Change the opacity of Chalk Text 1 Layer to 60%. Now press SHIFT and move the Chalk Text 2 Layer to the left once.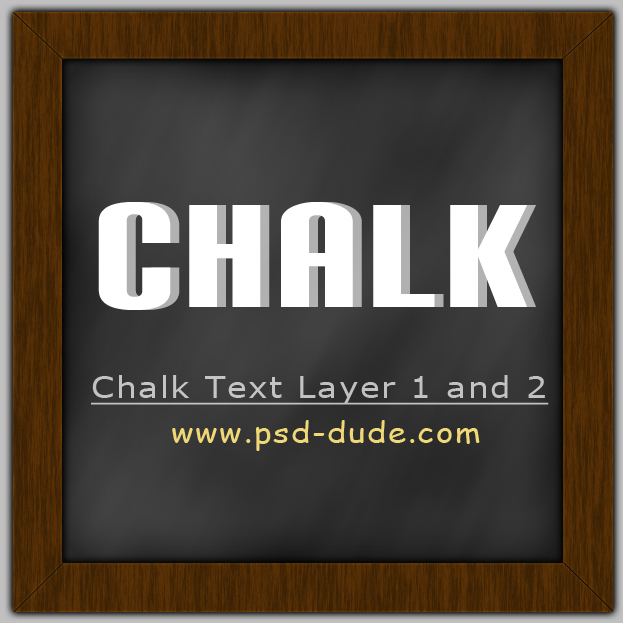 Press CTRL and click the Thumbnail of the Chalk Text 2 Layer.
Go to Select, Modify, Expand Menu and choose Expand by 4px. Select Inverse from Select Menu. Go to Chalk Text 1 Layer and Add Layer Mask as we did in the previous steps. This is how your image should look like: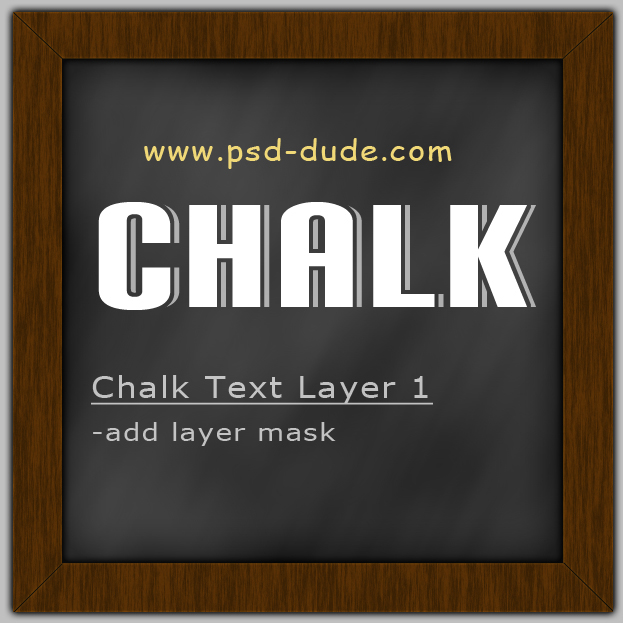 Change the opacity of the Chalk Text 1 Layer to 100% again. Duplicate the two layers. Hide the first two text layers and work with the duplicates. Change the Blending Mode of the two duplicates layers to Disolve 75%.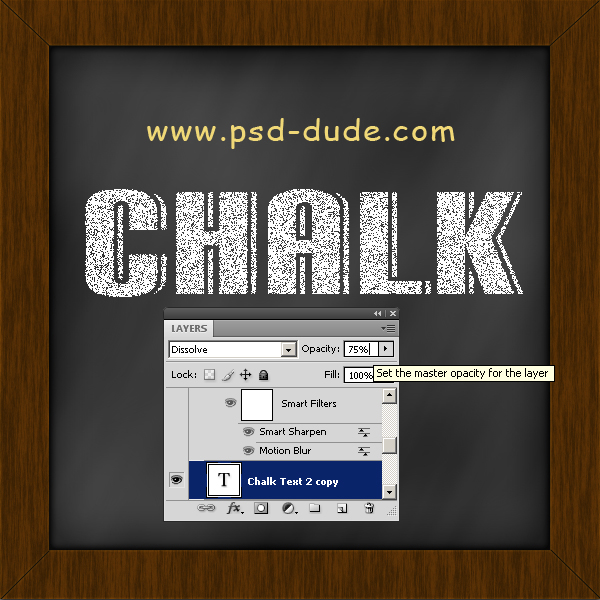 Select the two duplicates and convert to Smart Object. Go to Filter, Blur, Motion Blur and make the following settings: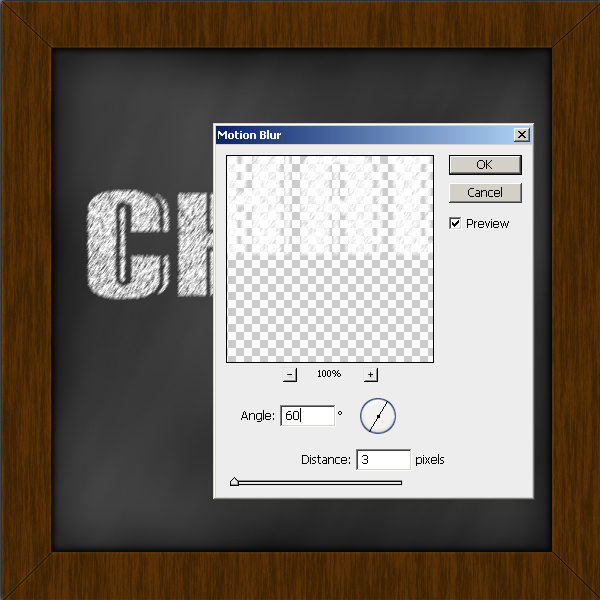 Add another Filter, this time Smart Sharpen Filter. You can adjust to obtain a realistic chalk look. Below you can see my settings: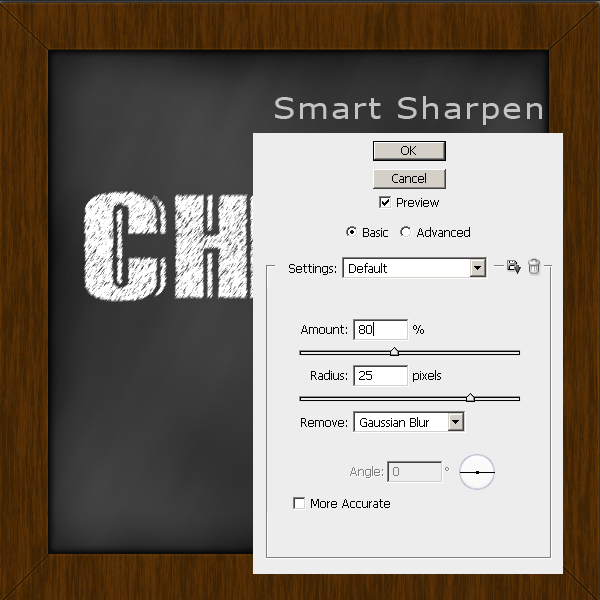 Change the opacity of the initial text layers to 35% and make them visible. You can add some simple chalk sticks and that is all, you can see our result for chalk Phooshop text effect and wooden frame chalkboard.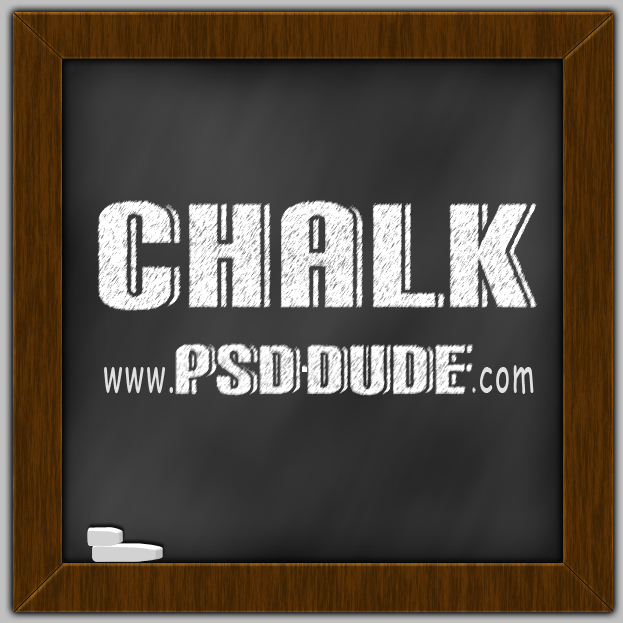 You can easily change the font family, the font color, the color of the Frame Layer, the color of the Chalkboard Layer making it green for example and you obtain a completly different result. I am working at different kinds of chalkboards to give them as freebies along with the PSD file of course. So stay tune!